The Unmanned Safety Institute (USI), the industry leader in remote pilot safety education, training, and certification, partnered with Texas oil refinery Shell Deer Park to deliver a Drone CTE Workforce Development Workshop at ACTE's annual CareerTech Vision conference. Nick Langolf, USI's Training and Industry Certification Strategist and John McClain, Shell Deer Park Manufacturing Complex's Security Specialist and Chief Drone Pilot spoke to around 30 educators at a workforce development workshop about the current state of the drone industry and what can be expected in the future, specifically regarding safety, regulations, and employment.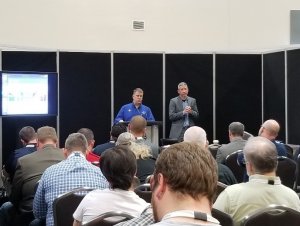 Mr. McClain discussed Shell Deer Park's adoption of unmanned aerial systems (UAS) and the development of their programs which will become standardized across the company. He highlighted the importance of professionalism and learning best practices and procedures for both current and aspiring remote pilots and stressed that safety and risk management are paramount to successful operations.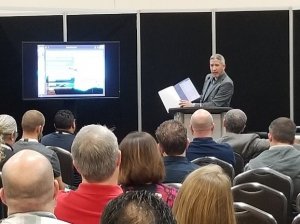 Our Institute is so thankful to John McClain and Shell Deer Park for partnering with us to share their own unique story around what the investment in the technology has meant to their business, the value it has delivered and how it plays into their short/long term strategic objectives. We look forward to continuing our commercial relationship and introducing and creating opportunities for students with our commercial partners to position them for success.
Over the last four years, the Unmanned Safety Institute has developed scalable academic and commercial training and education programs which have been implemented in hundreds of academic institutions, flight schools, and businesses. The programs, aimed at bolstering the unmanned industry and local workforces, are utilized internationally as the most widely recognized safety credentials in the unmanned industry. All of USI's certification programs are designed to provide remote pilots with critical and comprehensive knowledge, tools, and experience. Successful completion of each program culminates in an industry-recognized certification that demonstrates the pilot's commitment to safety and professionalism.
USI's programs include the Small UAS Ground School, an instructor-driven, self-paced, or hybrid program that sets the foundation of required aeronautical knowledge for remote pilots of UAS less than 55 pounds that are interested in obtaining their Part 107 Remote Pilot's license for commercial operations. The curriculum addresses all pertinent aeronautical knowledge factors outlined by the FAA for the Unmanned Aircraft General (UAG) examination and augments those with safety concepts and practices to develop well-informed and responsible remote pilots.
The Small UAS Safety Certification™ is comprised of four courses with optional ACE Credit Recommended 12 college credits. Students who successfully complete the program are eligible to take USI's credentialing exam leading to the Small UAS Safety Certification, an industry certification demonstrating expertise in the safe and professional application of remotely piloted aircraft making them highly qualified for careers in the burgeoning industry of Unmanned Aircraft Systems, commonly referred to as "drones." To date, more than 5,000 students have successfully completed the program which has already been approved by several State Departments of Education.
USI's Visual Line-of-Sight System Operations™ program is a system of practical flight safety instruction which includes drone flight safety curricula, frameworks, instructor training, courseware, instructional delivery methods, simulation, and testing and evaluation procedures. The program ensures that each crewmember becomes educated, standardized, and adequately trained for aircraft utilized in particular industry clusters. Learner obtains a practical understanding of checklists, flows, site survey, mission planning, safety and risk management, and more.
About Unmanned Safety Institute
The Unmanned Safety Institute (USI) is the industry's most widely recognized leader in flight safety solutions for individuals, enterprises, and organizations focused on integrating and operating Unmanned Aircraft Systems (UAS) for civil or commercial purposes. The Unmanned Safety Institute, recognized as "best-in-class", provides UAS flight safety training and certification to operational standards based on the adoption and modification of time-honored aviation safety practices. With 150+ instructors and over 7,000 customers around the world, including several Fortune 500 enterprises, USI is considered the global leader in UAS safety education, training and certification delivering the most highly-regarded training program and career pathway initiatives of its kind. USI is the only training and certification organization that is accepted by the FAA, endorsed by major aviation insurance providers, and whose training programs have been evaluated and recommended for college credit by the American Council on Education. Discover more at www.UnmannedSafetyInstitute.org.
CONTACT: Alexis Creedy, Marketing & Communications // alexis.creedy@unmannedsafetyinstitute.org