Everything Commercial Operators Need to Know About Remote ID and How to Prepare for the New Rule
The Federal Aviation Administration (FAA) has announced that all drone pilots will be required to comply with the Remote Identification (also called Remote ID or RID) rule starting September 16, 2023.
USI wants to support sUAS operators to make sure you are ready and prepared for this new rule.
This blog is the second of our three-part series about Remote ID, and includes everything you need to know about the new Remote ID requirements as a commercial drone pilot.
What is Remote ID?
The FAA defines Remote ID as the ability of a drone in flight to provide identification and location information that can be received by other parties.
Why is Remote ID Important?
The aviation industry is changing every day, and drones or unmanned aircraft systems (UAS) are the fastest growing segment. The FAA is committed to working to fully integrate drones into the National Airspace System (NAS) safely and UAS remote identification is crucial to their integration plan.
As described by the FAA, "Remote ID helps the FAA, law enforcement, and other federal agencies find the control station when a drone appears to be flying in an unsafe manner or where it is not allowed to fly. Remote ID also lays the foundation of the safety and security groundwork needed for more complex drone operations."
Will Remote ID Impact Me?
Yes! If you are a drone pilot, UAS instructor, are operating an uncrewed aircraft in any way for any purpose, or if you have or are starting a drone program commercially, you are required to meet the identification requirements of the remote ID rule which goes into effect September 16, 2023.
There are three options for compliance:
Use a Remote ID Capable Drone

Attach a Remote ID Broadcast Module to a Drone that doesn't have it built in

Operate a Drone without Remote ID within an FAA-Recognized Identification Area (FRIA)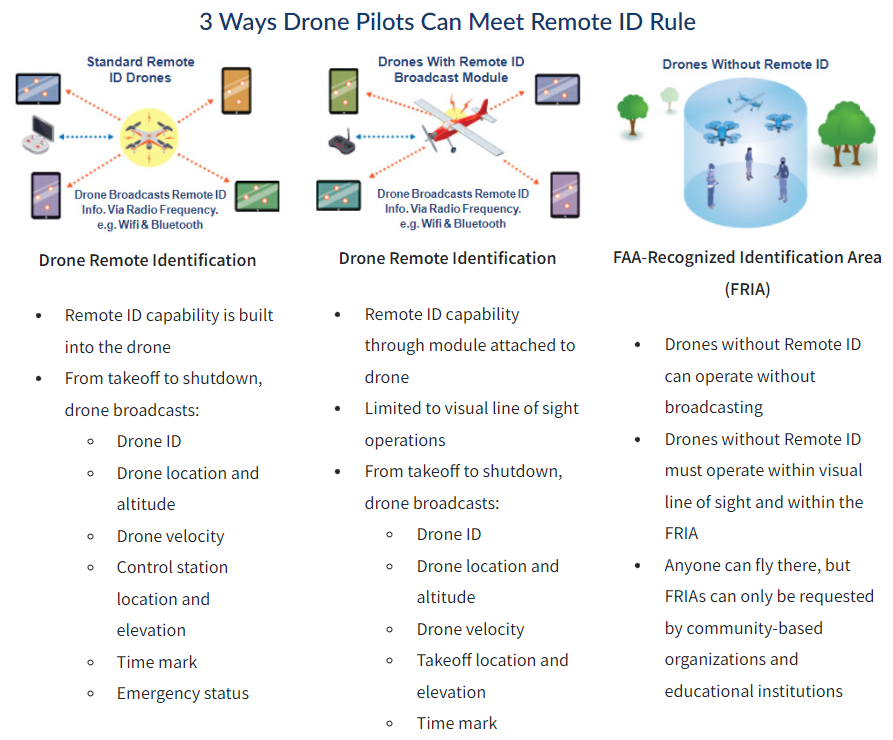 Source: Federal Aviation Administration (FAA)
We will discuss these options as they relate to the professional remote operator specifically in more detail below.
What is a Commercial Drone?
If you work in the drone industry, you likely already know what qualifies as a commercial drone. In a nutshell, if a drone is used for a business, or to make money, it is a commercial drone. If you are looking for additional information or want to learn more about the commercial use of UAS, be sure to read this article from Commercial UAV News.
How Do I Make Sure My Business is Compliant with Remote ID?
In order to make sure that your organization is compliant with Remote ID, you need to understand your options above and how they apply to your business once the rule is in effect. Based on the three options above, you can:
Plan to fly within a designated FRIA, which your business will need to apply for. If you prefer, you could also work with a community-based organization (CBO) to establish a FRIA. Please note that this option may not be a good fit for a commercial drone mission as it limits the operating area and may also compromise the goals of your mission.


If you want - or need - to fly for your business without a FRIA, all aircraft will need to have Remote ID, FAA registration and be operated by a Part 107 Certified pilot.


If you are not prepared for either of these prior to September 16, 2023, you will not be operating legally in the National Airspace System (NAS).
This means that if your organization already has an existing UAS fleet, all aircraft will need to be retrofitted with a new Remote ID Broadcast module OR you need to replace your fleet of aircraft to ensure they are all RID compliant.
If you do not already have drones at your organization, make sure you are purchasing new aircraft that meet the Remote ID requirements.
What Does Remote ID Mean for the Commercial Drone Industry?
As regulations change and restrictions are enabled, we suspect that the industry will experience major growth. The new rules that are being implemented are creating new areas of opportunity. New specializations and scenario-based training will be in high demand for commercial drone pilots. The industry expansion includes careers into shipping, cargo delivery, powerline and pipeline inspection, mining, construction, agriculture and more.
Remote ID may be a great thing in the eyes of the professional drone pilot, because it will limit the number of unqualified drone pilots operating in the NAS. Commercial operator owners may see these new regulations as a challenge. As the owner of a fleet of drones, you'll need to update each system to meet these new Remote ID regulations.
If you have any questions about Remote ID, standing up, or scaling your drone department or business, please feel free to reach out to USI!