Everything Schools Need to Know About Remote ID and How to Prepare for Compliance with the New Rule
The Federal Aviation Administration (FAA) has announced that all drone pilots will be required to comply with the Remote Identification (also called Remote ID or RID) rule starting September 16, 2023.
USI wants to support sUAS operators to make sure you are ready and prepared for this new rule.
This blog is the first of our three-part series about Remote ID, and includes everything schools need to know about the new Remote ID requirements.
What is Remote ID?
The FAA defines Remote ID as the ability of a drone in flight to provide identification and location information that can be received by other parties.
Why is Remote ID Important?
The aviation industry is changing every day, and drones or unmanned aircraft systems (UAS) are the fastest growing segment. The FAA is committed to working to fully integrate drones into the National Airspace System (NAS) safely and UAS remote identification is crucial to their integration plan.
As described by the FAA, "Remote ID helps the FAA, law enforcement, and other federal agencies find the control station when a drone appears to be flying in an unsafe manner or where it is not allowed to fly. Remote ID also lays the foundation of the safety and security groundwork needed for more complex drone operations."
Will Remote ID Impact Me?
Yes! If you are a drone pilot, UAS instructor, are operating an uncrewed aircraft in any way for any purpose, or if you have or are starting a drone program at your school, you are required to meet the identification requirements of the remote ID rule which goes into effect September 16, 2023.
There are three options for compliance:
Use a Remote ID Capable Drone

Attach a Remote ID Broadcast Module to a Drone that doesn't have it built in

Operate a Drone without Remote ID within an FAA-Recognized Identification Area (FRIA)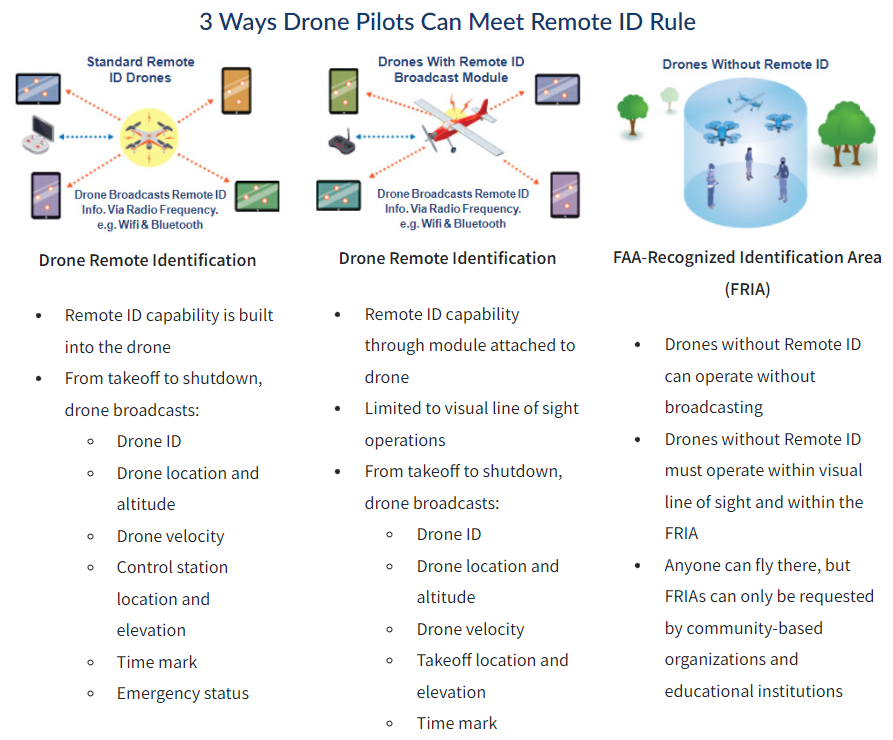 Source: Federal Aviation Administration (FAA)
We will discuss these options as they relate to schools specifically in more detail below.
How Do I Make Sure My School is Compliant with Remote ID?
In order to make sure that your school is compliant with Remote ID, you need to understand your options above and how they apply to your school once the rule is in effect. Based on the three options above, you can:
Plan to fly at your school in a designated FRIA, which your school will need to apply for. If you prefer, you could also work with a community-based organization (CBO) to establish the FRIA.


If you want to fly at your school without a FRIA, all aircraft will need to have Remote ID, FAA registration and be operated by a Part 107 Certified pilot under school insurance policy.


If you are not prepared for either of these prior to September 16, 2023, your only option will be to fly indoor-only at your school.
This means that if your school already has an existing UAS fleet, all aircraft will need to be retrofitted with a new Remote ID Broadcast module OR you need to submit your application for establishing a FRIA for your school.
If you do not already have drones at your school, make sure you are purchasing new aircraft that meet the Remote ID requirements.
How Do I Apply to Establish a FRIA for My School?
Educational institutions are qualified to apply for a FRIA to be established. This includes primary and secondary schools, trade schools, colleges, and universities.


Establishing a FRIA can take time. If you are going to apply for a FRIA to be established for your school, start today. The FAA started accepting applications on September 16, 2022.
The application requires that you submit the following information:
The name of the educational institution/school

The name of the individual making the request on behalf of the school
A declaration that the individual making the request has the authority to act on behalf of the educational institution
The name and contact information of the primary point of contact (PPOC) for communications with the FAAThe physical address of the proposed FRIA
The location of the proposed FRIA in a form and manner prescribed by the Administrator
If applicable, a copy of any existing letter of agreement regarding the flying site
Description of the intended purpose of the FRIA and why the proposed FRIA is necessary for that purpose -- This must be detailed, yet brief (limit 500 characters) and is very important.
Be sure to include:
• The average number of flights flown each week at your school
• The average length of time per flight
• Type of aircraft (electric, gas, turbine; fixed wing, helicopter, multi-copter)
• Dawn and/or dusk operation (yes or no)
• Night operation (yes or no)
All documentation and information to apply for a FRIA should be submitted via the FAA's FRIA application website located within the FAA DroneZone.
Alternately, if you prefer to work with a CBO to establish a FRIA or utilize a FRIA they may already have near your location, you will need to contact one of the below CBOs to partner with them on this.
Note that this route may require membership, where either the school or each student has annual dues/fees to participate.
FAA Recognized CBOs
Remember, these updates will take time. Even if you decide to fly indoor-only at your school, you may likely need to update your standard operating procedures, budget, and equipment.
Whether you choose to work with a CBO or apply for a FRIA on your own, it is important to start on that right away.
If you don't want to fly within the FRIA, make sure you are updating or replacing your drone fleet so you can safely operate within the Remote ID rule when it goes into effect on September 16, 2023.