'Seeing these students achieve these certifications is the
ultimate satisfaction, knowing that we are helping set them
on a successful career path'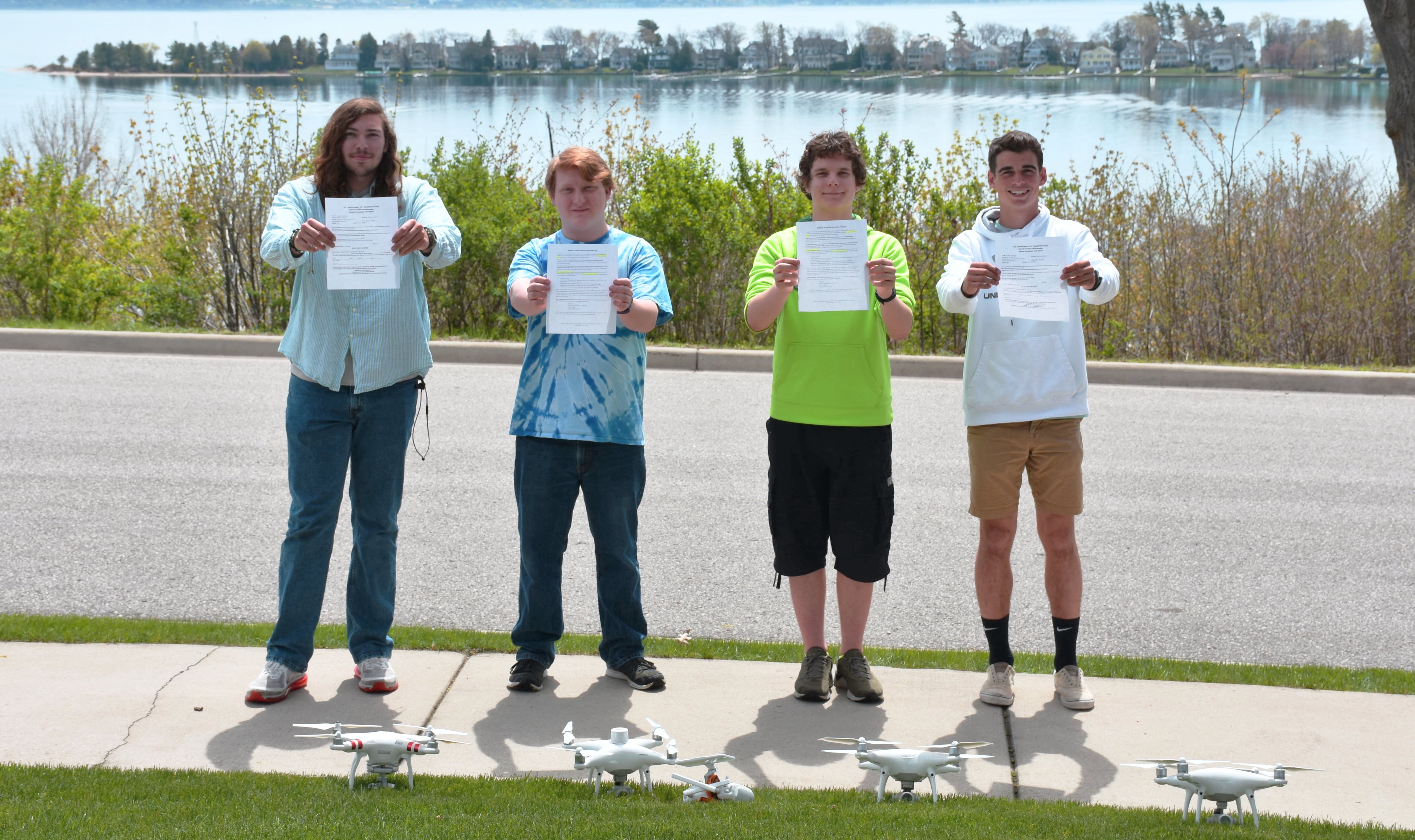 HARBOR SPRINGS – Four students in the unique drone program at Harbor Springs High School have achieved two major milestones – they have received their flight safety certification and also their UAV license from the Federal Aviation Administration (FAA), two designations that will set them on the path of commercial drone operation.
The students are all graduating seniors in Rob LaPoint's drone class, known as STEM sUAS. The students are: Connor Flinn, Peter Molosky, Tyler Rushing, and Garth Vorce.
First, the students completed a proctored safety exam administered by the Small Unmanned Aerial Systems (sUAS) to receive their Safety Certification. The safety exam is part of the curriculum used in the class that is provided by the Unmanned Safety Institute (USI), which provides a robust set of coursework for the students to accomplish during the school year.
Instructor LaPoint explained that the safety certification can save future employers thousands of dollars when they need their employees to study, train and pass the exam to execute their job duties.
"I'm really proud of these students. They have taken this class seriously and they now have another tool in their tool belt as far as potential career opportunities. They can also use their skills to earn some extra money professionally, as drone operators are in high demand across a number of different industries," LaPoint said. "Further, these exams can cost a lot of money. To have these completed in high school and paid for through the program is really remarkable and a real benefit to them for working so hard in class."
For those students who pass sUAS safety certification, they may next take a UAV (Unmanned Aerial Vehicles, aka drones) flight exam administered by the FAA to become Certified Remote Pilots, including as licensed Commercial Operators. The same four seniors performed well on the FAA test and have received their temporary licenses. The FAA "Part 107" license means the students can fly drones for work or private business under the FAA's rules.
The students will need to register their drones and complete background checks to receive the final certificates.
Senior Tyler Rushing said he's excited to have the certifications in place so that he can put his drone skills to work this summer at a Harbor Springs golf course, shooting video. "It's very cool to now have these completed, while I was still in high school," said Tyler.
His classmate, Peter Molosky, echoed his comments. "Once I get my certificate, I'm going to throw my name out there and be ready to work."
The FAA testing took place at Northwestern Michigan College (NMC) in Traverse City, through the college's CATS training center, which has been a partner with Char-Em ISD's Career and Technical Education department and Harbor Springs High School in getting the drone program off the ground the past two years. The students are also eligible to receive six articulated college credits at NMC should they attend the college's UAV program.
Jim Rummer, Char-Em ISD Career and Technical Education Director, said jobs incorporating UAVs are many and diverse. Drone operators don't only capture eye-catching aerial pictures and unique videos; the technology is used in innumerable ways, including search-and-rescue operations, pinpointing land parcel boundaries, calculating volume of fill dirt at a construction site, delivery of packages, and much more. It's likely many uses for drone technology haven't yet been developed or explored, he added - leaving a future that's wide open and potentially profitable for those with the safety and operational skills learned and perfected by the Harbor students.
"This program says a lot about Harbor Springs' leadership in seeing the potential for their students with this evolving and exciting technology. Seeing these students achieve these certifications is the ultimate satisfaction, knowing that we are helping set them on a successful career path, if they choose to pursue drone piloting," Rummer said. "We are all about giving students in our area every possible opportunity to create successful futures, and we congratulate these seniors on their hard work and dedication to this class and for taking on the additional training."
Caption:
Harbor Springs seniors (from left) Peter Moloskey, Garth Vorce, Connor Flinn and Tyler Rushing display their recent safety certificates, advancing their knowledge of drone operations and their ability to use them commercially.
#
Contact: Beth Piehl Eckerle
Char-Em ISD Communications Coordinator
231.330.5701 eckerleb@charemisd.org